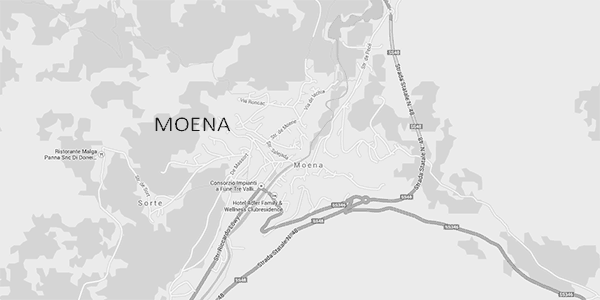 Graziella Defrancesco
Graziella Defrancesco
Strada de Pecè, 2
38035 Moena (TN)
Tel. +39 0462 573320
Cell. +39 349 8863461
Fax +39 0462 573320
images of interior/exterior
Availability
May 2019
Juny 2019
July 2019
sab rs27;rs28;ns29;ns30;primo n1;n2;n3;sab r4;r5;n6;n7;n8;n9;n10;sab r11;r12;n13;n14;n15;n16;n17;sab r18;r19;n20;n21;n22;n23;n24;sab r25;r26;n27;n28;n29;n30;n31;primo sab rs1;rs2;ns3;ns4;ns5;ns6;ns7;sab rs8;rs9;ns10;ns11;ns12;ns13;ns14;sab rs15;rs16;ns17;ns18;ns19;ns20;ns21;sab rs22;rs23;ns24;ns25;ns26;ns27;ns28;sab rs29;rs30;primo ns1;ns2;ns3;ns4;ns5;sab rs6;rs7;ns8;ns9;ns10;ns11;ns12;sab rs13;rs14;ns15;ns16;ns17;ns18;ns19;sab rs20;rs21;ns22;ns23;ns24;ns25;ns26;sab rs27;rs28;ns29;ns30;ns31;primo ns1;ns2;sab rs3;rs4;ns5;ns6;ns7;ns8;ns9;sab rs10;rs11;ns12;ns13;ns14;ns15;ns16;sab rs17;rs18;ns19;ns20;ns21;ns22;ns23;sab rs24;rs25;ns26;ns27;ns28;ns29;ns30;sab rs31;primo rs1;ns2;ns3;ns4;ns5;ns6;sab rs7;rs8;ns9;ns10;ns11;ns12;ns13;sab rs14;rs15;ns16;ns17;ns18;ns19;ns20;sab rs21;rs22;ns23;ns24;ns25;ns26;ns27;sab rs28;rs29;ns30;primo ns1;ns2;ns3;ns4;sab rs5;rs6;ns7;ns8
sab dls;dls;dls;dls;primo dl;dl;dl;sab dl;dl;dl;dl;dl;dl;dl;sab dl;dl;dl;dl;dl;dl;dl;sab dl;dl;dl;dl;dl;dl;dl;sab dl;dl;dl;dl;dl;dl;dl;primo sab dls;dls;dls;dls;dls;dls;dls;sab dls;dls;dls;dls;dls;dls;dls;sab dls;dls;dls;dls;dls;dls;dls;sab dls;dls;dls;dls;dls;dls;dls;sab dos;dos;primo dos;dos;dos;dos;dos;sab dos;dos;dos;dos;dos;dos;dos;sab dos;dos;dos;dos;dos;dos;dos;sab dos;dos;dos;dos;dos;dos;dos;sab dos;dos;dos;dos;dos;primo dos;dos;sab dls;dls;dls;dls;dls;dls;dls;sab dls;dls;dls;dls;dls;dls;dls;sab dos;dos;dos;dos;dos;dos;dos;sab dos;dos;dos;dos;dos;dos;dos;sab dls;primo dls;dls;dls;dls;dls;dls;sab dls;dls;dls;dls;dls;dls;dls;sab dls;dls;dls;dls;dls;dls;dls;sab dls;dls;dls;dls;dls;dls;dls;sab dls;dls;dls;primo dls;dls;dls;dls;sab dls;dls;dls;dls
sab dls;dls;dls;dls;primo dl;dl;dl;sab dl;dl;dl;dl;dl;dl;dl;sab dl;dl;dl;dl;dl;dl;dl;sab dl;dl;dl;dl;dl;dl;dl;sab dl;dl;dl;dl;dl;dl;dl;primo sab dls;dls;dls;dls;dls;dls;dls;sab dls;dls;dls;dls;dls;dls;dls;sab dls;dls;dls;dls;dls;dls;dls;sab dls;dls;dls;dls;dls;dls;dls;sab dos;dos;primo dos;dos;dos;dos;dos;sab dos;dos;dos;dos;dos;dos;dos;sab dos;dos;dos;dos;dos;dos;dos;sab dos;dos;dos;dos;dos;dos;dos;sab dos;dos;dos;dos;dos;primo dos;dos;sab dos;dos;dos;dos;dos;dos;dos;sab dos;dos;dos;dos;dos;dos;dos;sab dos;dos;dos;dos;dos;dos;dos;sab dos;dos;dos;dos;dos;dos;dos;sab dls;primo dls;dls;dls;dls;dls;dls;sab dls;dls;dls;dls;dls;dls;dls;sab dls;dls;dls;dls;dls;dls;dls;sab dls;dls;dls;dls;dls;dls;dls;sab dls;dls;dls;primo dls;dls;dls;dls;sab dls;dls;dls;dls
available
occupied
to be confirmed
on offer
closed
Reviews
07/09/2016
Location
Cleaning
Welcome
Furniture
Quality/price ratio
Comfort and services
fam.Anna e Tiziano Cassinari
63 years
With family
2 people
06/08/2016
27/08/2016
il secondo anno ancora migliore del primo
Questo è stato il secondo anno che ad Agosto andiamo in vacanza a Moena, nella casa della fam.Defrancesco, molto accogliente comoda,pulitissima,dotata di tutto, un giardino con una casetta di legno dove la nostra nipotina Ginevra si è divertita un mondo, il panorama che si vede tutto intorno è meraviglioso,ma sopratutto la simpatia e l'accoglienza dei loro propietari,Elio e Graziella che ci hanno fatto passare una meravigliosa vacanza,che ripeteremo senz'altro l'anno prossimo.
05/09/2015
Location
Cleaning
Welcome
Furniture
Quality/price ratio
Comfort and services
Anna e Tiziano Cassinari
63 years
With family
2 people
08/08/2015
31/08/2015
stupenda vacanza
Dopo essere andati per tanti anni in vacanza a Baselga di Pinè per la prima volta siamo venuti a Moena nella casa della famiglia Defrancesco abbiamo trovato una casa molto accogliente pulita e con tutto quello che puo servire, in una posizione panoramica e tranquilla ma nello stesso tempo vicina al centro.Con un bel giardino per prendere il sole o rilassarsi ,con una casetta e i giochi per i bambini la nostra nipotina si è divertita molto,e poi la stupenda ospitalità della famiglia Defrancesco in particolare dell'esplosiva simpatia della signora Graziella.Una vacanza stupenda che è finita troppo presto .Ma l'anno prossimo ci rivediamo di certo Anna eTiziano

Carissimi Anna e Tiziano, vi ringrazio anche qui. Siete due persone squisite ed è stato un piacere conoscervi. Arrivederci al prossimo anno! Graziella
---
Graziella Defrancesco, 20/09/2015
24/06/2015
Location
Cleaning
Welcome
Furniture
Quality/price ratio
Comfort and services
Famiglia Dipaola
45 years
With family
3 people
01/08/2014
31/08/2014
Sempre fantastico
Ogni anno è sempre un piacere tornare a Moena ed in particolare nell'appartamento della Sig.ra Graziella Defrancesco. la posizione è ottimale, non troppo distante dal centro del paese ma lontano dal caos per potersi godere in tutto relax la vacanza. L'appartamento è confortevole, pulito e ben dotato di tutto il necessario. l'ospitalità dei padroni di casa è esemplare e rappresenta un vero valore aggiunto. Consigliatissimo!

Grazie Benito, Mauro ed Enrica. Ospitarvi è sempre un piacere. Ci vediamo presto, Graziella.
---
Graziella Defrancesco, 24/06/2015
24/06/2015
Location
Cleaning
Welcome
Furniture
Quality/price ratio
Comfort and services
Marco & Giorgia
49 years
With family
4 people
19/07/2014
26/07/2014
Bellissima vacanza
Approfitto non solo per condividere la mia esperienza di vacanza, ma anche per ringraziare la signora Graziella della meravigliosa ospitalità che ci ha riservato anche se è già passato un anno. Noi abbiamo soggiornato nell'appartamento tipo 1. L'abbiamo trovato molto pulito e completo di tutto ciò che serve. Posizione molto comoda al paese ma fuori dal caos delle piazze. Giardino perfetto per prendere il sole in completo relax. La signora Graziella si è dimostrata fin da subito molto disponibile, ci ha consigliato luoghi da visitare e passeggiate. Soluzione consigliata a tutti, sia a famiglie che a coppie. Insomma ci siamo trovati benissimo.... e l'insalata dell'orto di Moena è l'unica che siamo riusciti a far mangiare ai nostri figli perciò... dobbiamo tornare! Un saluto, Marco e Giorgia (VR)

Grazie a voi per queste belle parole. Vi ricordo con piacere e vi aspetto per un'altra vacanza. Un saluto a tutti. Graziella
---
Graziella Defrancesco, 24/06/2015
Services offered
General













Recommended for families with children, Garden, BBQ, Panorama viewpoint, Private parking, Very close to the centre, Motorbike garage on request, Bed linen on request, Cots on request, Children's toys, Public internet point, Ski storage, Bicycle storage
Relax



Sun terrace, Sunbathing garden, Sun loungers
images of interior/exterior
Summer
« Previous pics
More pictures »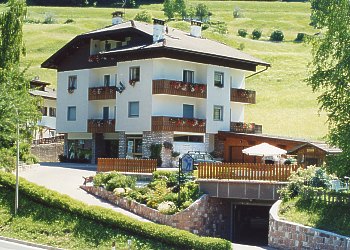 Type 1
« Previous pics
More pictures »
Apartment services





Balcony, Kitchen (separate), Washing machine, Living room, TV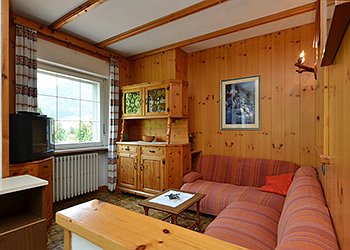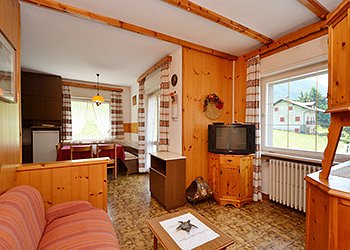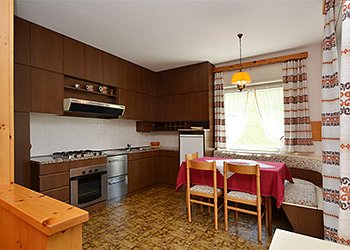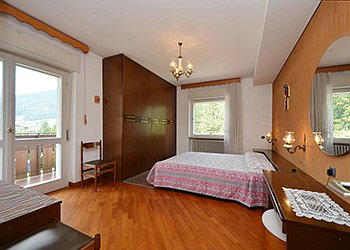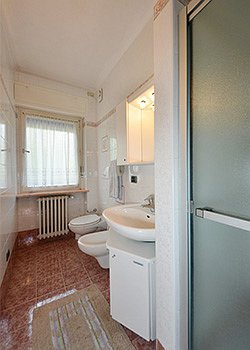 Type 2
« Previous pics
More pictures »
Apartment services



Living room with kitchenette, TV, Washing machine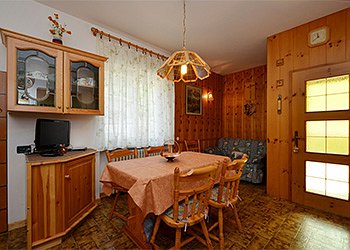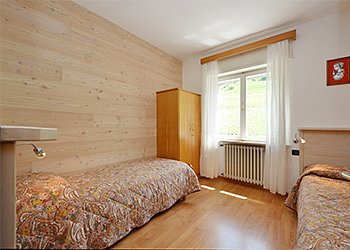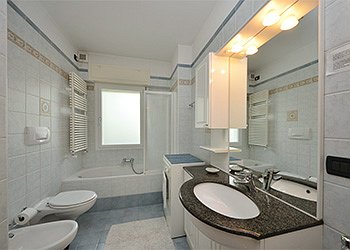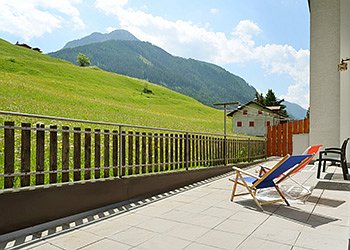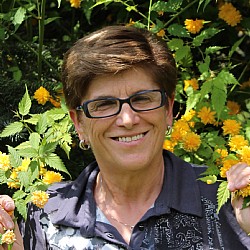 Graziella Defrancesco
Spoken languages:


Written languages:


Get a quote