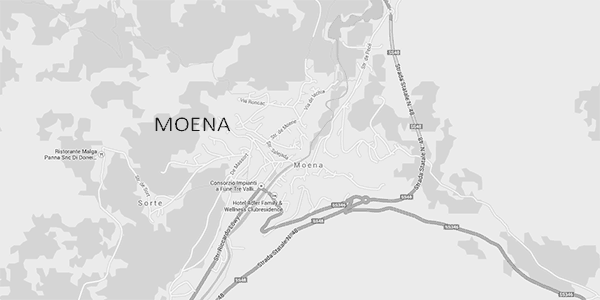 Ciasa Weber
Claudio Weber
Strada del Marchiò, 28
38035 Moena (TN)
Cell. +39 347 8315699
images of interior/exterior
Availability
March 2019
April 2019
May 2019
ns25;ns26;ns27;ns28;primo n1;sab r2;r3;n4;n5;n6;n7;n8;sab r9;r10;n11;n12;n13;n14;n15;sab r16;r17;n18;n19;n20;n21;n22;sab r23;r24;n25;n26;n27;n28;n29;sab r30;r31;primo ns1;ns2;ns3;ns4;ns5;sab rs6;rs7;ns8;ns9;ns10;ns11;ns12;sab rs13;rs14;ns15;ns16;ns17;ns18;ns19;sab rs20;rs21;ns22;ns23;ns24;ns25;ns26;sab rs27;rs28;ns29;ns30;primo ns1;ns2;ns3;sab rs4;rs5;ns6;ns7;ns8;ns9;ns10;sab rs11;rs12;ns13;ns14;ns15;ns16;ns17;sab rs18;rs19;ns20;ns21;ns22;ns23;ns24;sab rs25;rs26;ns27;ns28;ns29;ns30;ns31;primo sab rs1;rs2;ns3;ns4;ns5;ns6;ns7;sab rs8;rs9;ns10;ns11;ns12;ns13;ns14;sab rs15;rs16;ns17;ns18;ns19;ns20;ns21;sab rs22;rs23;ns24;ns25;ns26;ns27;ns28;sab rs29;rs30;primo ns1;ns2;ns3;ns4;ns5;sab rs6;rs7;ns8;ns9;ns10;ns11;ns12;sab rs13;rs14;ns15;ns16;ns17;ns18;ns19;sab rs20;rs21;ns22;ns23;ns24;ns25;ns26;sab rs27;rs28;ns29;ns30;ns31;primo ns1;ns2;sab rs3;rs4;ns5;ns6;ns7;ns8
dos;dos;dos;dos;primo do;sab do;do;do;do;do;do;do;sab do;do;do;do;do;do;do;sab do;do;do;do;do;do;do;sab do;do;do;do;do;do;do;sab do;do;primo dos;dos;dos;dos;dos;sab dos;dos;dos;dos;dos;dos;dos;sab dos;dos;dos;dos;dos;dos;dos;sab dos;dos;dos;dos;dos;dos;dos;sab dos;dos;dos;dos;primo dls;dls;dls;sab dls;dls;dls;dls;dls;dls;dls;sab dls;dls;dls;dls;dls;dls;dls;sab dls;dls;dls;dls;dls;dls;dls;sab dls;dls;dls;dls;dls;dls;dls;primo sab dls;dls;dls;dls;dls;dls;dls;sab dls;dls;dls;dls;dls;dls;dls;sab dls;dls;dls;dls;dls;dls;dls;sab dls;dls;dls;dls;dls;dls;dls;sab dls;dls;primo dls;dos;dos;dos;dos;sab dos;dos;dos;dos;dos;dos;dos;sab dos;dos;dos;dos;dos;dos;dos;sab dos;dos;dos;dos;dos;dos;dos;sab dos;dos;dos;dos;dos;primo dos;dos;sab dos;dos;dos;dos;dos;dos
available
occupied
to be confirmed
on offer
closed
Reviews
20/09/2017
Location
Cleaning
Welcome
Furniture
Quality/price ratio
Comfort and services
Luca e Giulia
45 years
With family
3 people
04/08/2017
24/08/2017
Una vacanza da ripetere
Abbiamo soggiornato a "Ciasa Weber" lo scorso mese di agosto. La casa si trova in una strada tranquilla vicinissima al centro; l'ideale quindi per godere delle comodità del paese senza dover usare la macchina che infatti abbiamo lasciato per tutto il periodo nel garage che avevamo a disposizione. Per la sua posizione è anche un ottimo punto di partenza per gite e passeggiate. L'appartamento è bello, funzionale, ben arredato e molto grande; perfetto per una famiglia di 4/5 persone anche per la presenza dei due bagni. Avendo un bambino piccolo e complice il bel tempo abbiamo sfruttato moltissimo il giardino privato. Eccezionale è stata l'accoglienza dei proprietari i quali, pur in maniera discreta, non ci hanno fatto mancare proprio nulla. Da segnalare lo strudel di benvenuto preparato dalla signora Luciana: il migliore mai mangiato. Alloggio da consigliare e soprattutto dove ritornare.

Grazie Luca e Giulia! E' stato un piacere ospitare voi e il piccolo Matteo. Speriamo di riverderci.
---
Ciasa Weber, 21/09/2017
15/09/2017
Location
Cleaning
Welcome
Furniture
Quality/price ratio
Comfort and services
Martina
52 years
With family
4 people
15/07/2017
29/07/2017
Gradevolissimo soggiorno
Abbiamo trovato un appartamento comodissimo per posizione: centrale rispetto ai servizi del paese, vicino alle fermate dei mezzi pubblici, comodo per le uscite serali a piedi e per le passeggiate/escursioni senza ricorrere all'auto. Gli spazi sono stati molto confortevoli per le nostre esigenze (due bambini di 6 e 8 anni) e l'accoglienza dei proprietari cordialissima. Siamo stati ospitati con discrezione ma con attenzioni che non dimenticheremo! E' stato un soggiorno piacevolissimo, da ripetere e consigliare. Grazie ancora per l'ospitalità.

Grazie a te Martina, speriamo di riaverti come ospite.
---
Ciasa Weber, 16/09/2017
04/08/2017
Location
Cleaning
Welcome
Furniture
Quality/price ratio
Comfort and services
Renza
45 years
With family
6 people
08/07/2017
15/07/2017
Rigenerarsi in Val di Fassa
Siamo stati ospiti di questa struttura per una settimana. Moena è sempre meravigliosa così come lo sono la gentilezza e l'accoglienza dei suoi abitanti che ancora una volta abbiamo potuto constatare nei padroni di casa. Centralissima la posizione, ideale per parcheggiare l'auto è non usarla più fino a fine vacanza perchè tutto è raggiungibile in pochi minuti. L'appartamento è in una posizione molto tranquilla del paese e per nulla isolata. Ogni comfort è assicurato. La disponibilità a soddisfare ogni esigenza degli ospiti, è davvero degna di nota. Un gradevolissimo soggiorno. Grazie ancora di cuore!

Grazie mille Renza. Grazie per le belle parole, per il vostro soggiorno e per la vostra gentilezza. Speriamo di vederci ancora.
---
Ciasa Weber, 04/08/2017
27/09/2016
Location
Cleaning
Welcome
Furniture
Quality/price ratio
Comfort and services
samanta
51 years
With family
2 people
02/09/2016
11/09/2016
vacanze incantevoli
Ottima posizione e struttura, a pochi passi dal centro.eccellente ospitalita',da consigliare.

È stato un piacere ospitarvi. Speriamo di rivedervi presto.
---
Ciasa Weber, 28/09/2016
170,4
Description
The house is situated in the characteristic historic area of Moena, a stones throw from the center, but in a quiet area as it is in a restricted traffic zone. It is a first floor apartment with an independent entrance and also thanks to the garden it's a really good place for families with children and also for a group of friends. The house is furnished in a classic mountain style and it is full of services and comfort to make your stay as pleasant as possible. The attention to details makes "Ciasa Weber" the perfect place to spend your vacations.
Services offered
General








Recommended for families with children, Garden, Private parking on request, Very close to the centre, Garage, Cots, Public internet point, Ski storage
Relax


Sunbathing garden, Sun loungers
images of interior/exterior
Summer
« Previous pics
More pictures »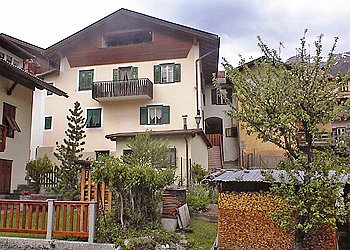 Owing to its strategic location the main square, shops, restaurants and coffee shops are all less than two minutes away. The garden, also accessible by a small scenic wooden bridge, is a great place for sunbathing or to unwind after a day at the mountain.
Type 1
« Previous pics
More pictures »
Apartment services











Hairdryer, Vacuum cleaner, Kitchen (separate), Flatiron, Microwave, Internet in room, Dishwasher, Washing machine, Living room, TV, Digital TV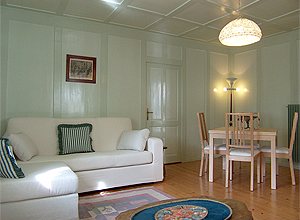 Large living room with two sofas (one of these can be converted in a double bed), table and 32-inch LCD TV.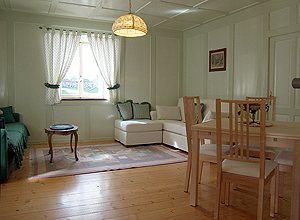 The living room is separate from the kitchen and has entrances to the corridor and master bedroom.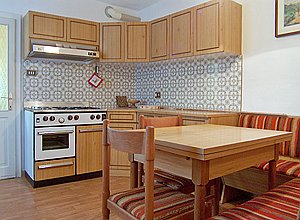 Kitchen with dining area; it has extendable table for 6/8 seats, dishwasher, fridge, freezer, traditional oven and a microwave oven.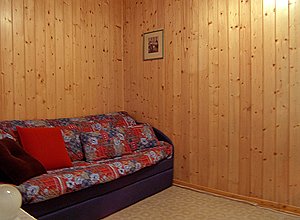 Room with a single bed.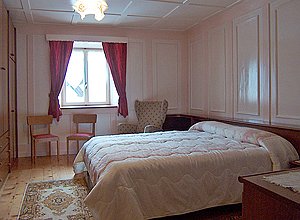 Roomy master bedroom, is possible to add a third bed.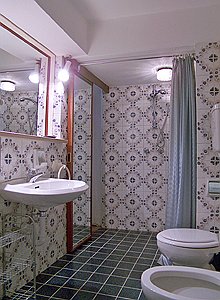 Bathroom with toilet, shower and closet.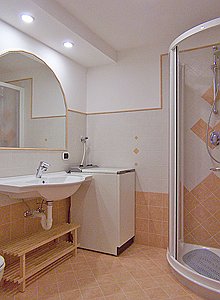 New bathroom with shower, toilet and washing machine.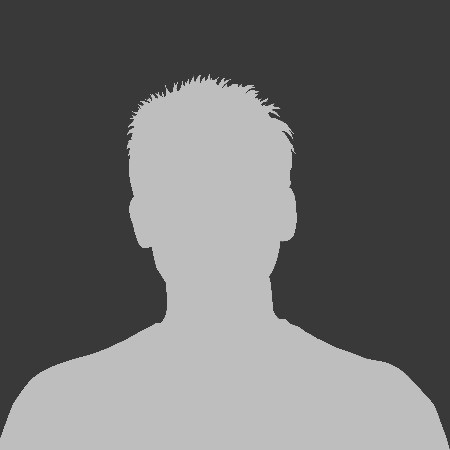 Ciasa Weber
Spoken languages:


Written languages:



Get a quote